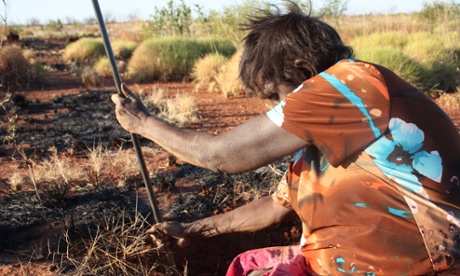 Eva, a friend of artist Giorgia Severi, digging potatoes in Balgo, Western Australia. Photograph: Giorgia Severi
The half million or so visitors to next year's Venice biennale will be confronted with a rare, challenging view of Australia. Indigenous people, some from very remotest communities, will speak directly about their lives and culture, answering a question that has been whispered to them: "What do you want to say to the world?"
Behind that question is Giorgia Severi, an Italian artist with a history of unsettling work.
Her most recent piece, Restoring the World, concerned the burning by arsonists of the Parco del Delta del Po natural reserve near her native Ravenna, where Dante wrote part of his Divine Comedy. Severi dramatised the destruction in a tent she mounted with civil defence forces in the centre of the city. Viewers shed their shoes and phones before being confronted with intimate, shocking silence. Seeds were collected to be watered and the audience were invited to take some of them home to plant.
Human custodianship of the earth is also central to her Australian project. "The core of the project, which is called Land, is to bring a message to western countries by working with Indigenous people in Australia in their different lands," she explains.
Severi has been with the Wirrimanu community in Balgo on the edge of the Tanami desert in Western Australia. "This is a lovely small community," she says. "Men and women, talking to the world from the desert and teaching the next generation. I have been working with the Warlayirti artists centre and the Kapululangu women's centre building an artwork dedicated to this land and the people here."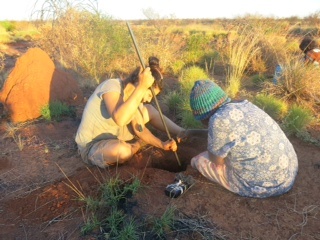 Severi first left Ravenna for Tibet 12 years ago, at the age of 18, drawn by the beliefs of Tibetan monks, whose culture was so different to the one she knew growing up. "Our attitude is more, more, more while to the monks it is less and less," she says. "They listen to the silence; we produce a lot of noise, they don't."
From Tibetan monasteries, Severi moved on to Nepal, then Morocco, Greece and other corners of Europe. Her interest in Indigenous culture sprang from a similar curiosity about alternatives to the Western way of living. "My research is very close to nature. There are some people on this planet, such as Indigenous Australians, with a deep connection with the land. And this is what makes a human being human – it keeps people grounded, close to feelings of the heart and able to listen to the sounds of the earth."
The artwork at Venice will be a mixed-media piece featuring "message sticks" from the communities she has worked with, alongside stones and other symbols of the land. Recordings will link each carved stick: "The sounds are Indigenous voices, which will teach the world about their world," Severi says.
"I want to make people aware of some of the issues, but from Indigenous people's voices, not being fake and not hiding things. They will say what they want to say about what's going on with their land."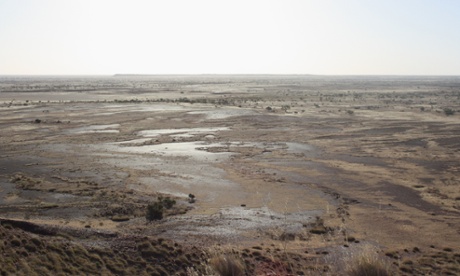 In her 17-year-old Mitsubishi van, tagged "Jasper" by a previous owner, Severi heads next on her 6,000km journey to the Boolarng Nangamai Aboriginal Art and Culture Studio, at Gerringong, just south of Kiama in the Illawarra region of New South Wales.
While her well-patched jeans and tough boots suggest a readiness to rough it, Severi is dismissive of hippy culture and its trappings. She has received some sponsorship from the Gervasuti Foundation, an alternative art platform based at the Venice family cabinet-maker and joinery workshop that will show her work in 2015. The foundation funds experimental projects that aim to preserve cultural memory.
Otherwise, Severi is paying her own way, raising extra funds through crowdsourcing, which she likens to a boomerang: rewarding backers for their involvement and collecting money and feedback for her Indigenous collaborators.
"They need support around the world because horrible things happened and are happening now." Severi is indignant that more is not done for these communities who are losing their land, culture and language. "People in Europe don't know enough about what's going on here."
Find out more about Severi's projects here